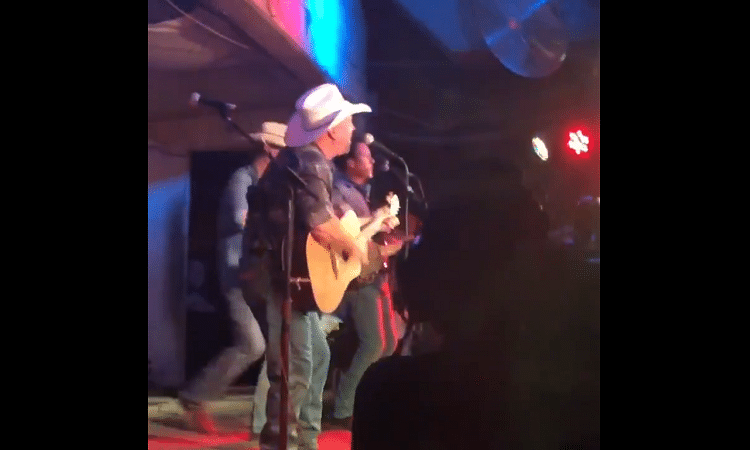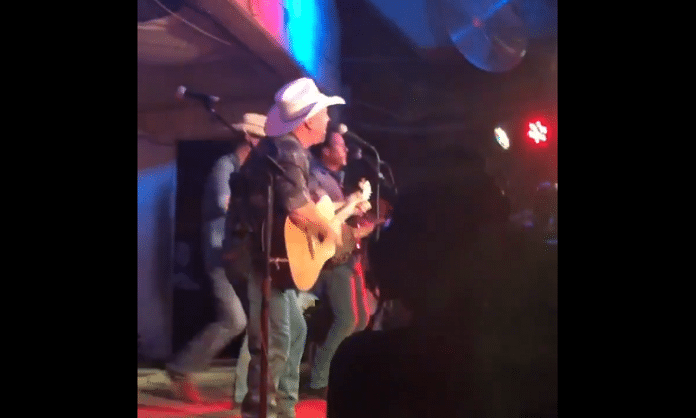 On Monday night Garth Brooks played a concert at the historic Gruene Hall in Gruene, TX (New Braunfels) as part of his ongoing "Dive Bar" tour in support of the new single duet with Blake Shelton of the same name. Gruene Hall is pretty spacious with the ability to hold 800 concert goers, and they packed them all in to capacity. Those not lucky enough to get inside for the show weren't left out of the fun though as there were huge video screens set up outside broadcasting the show happening inside live. Garth's team said that 5,000 people packed the outdoor area to watch the show inside – wow.
One YouTube user captured the live performance of Garth's classic "Friends in Low Places" on the outdoor screen. Watch it here.
During the song Garth stopped, as he often does, as the crowd was cheering for the popular third-verse to the song. That's when he let us all in on a little Garth Brooks history that involves another Texas town. 29 years ago when he released his album "No Fences" he played a show in support of it at Cowboys Dancehall (Red River) in Dallas, TX and that's where the third verse first came to life.
That wasn't the only surprise to come out of the Dive Bar tour show. Garth also graced the crowd with a cover of George Strait's "Amarillo by Morning"
Nearly lost it when @garthbrooks covered @GeorgeStrait #DiveBarTour pic.twitter.com/6htxiIjSik

— Michael Rivera (@MikeRiveraOnAir) September 24, 2019
Fans that were able to attend the Monday night performance took to Twitter to show off to the rest of us unlucky schmucks.
Nice night for a #DiveBarTour concert! pic.twitter.com/GOhPVwznSv

— Nadine Carlson (@The_Universe_Sz) September 24, 2019
Thank you @KJ97SanAntonio for the chance to see @garthbrooks up close and personal at @GrueneHallTX. It was an opportunity of a lifetime! #divebartour pic.twitter.com/PWNPHxU3wz

— Brittany (@BritDtaylor) September 24, 2019
Made the trip out to Gruene to see Garth! #DiveBarTour pic.twitter.com/OsPOzDJEEf

— Jared (@BMS_Jared) September 24, 2019
Check that off the bucket list…
✅ meet @garthbrooks #DiveBarTour pic.twitter.com/cmmOkhe14x

— Michael Rivera (@MikeRiveraOnAir) September 24, 2019
There's no doubt that Texas has been great to Garth and that Garth loves Texas right back. Heck, he's probably the one Oklahoman we can all agree should be a Texan, let's make him an honorary Texan.
GRUENE HALL!!!! From THIS bar, to the streets, to the parking lots … Thank you ALL for making tonight a PARTY I will never forget!!! The first time could not compare to THIS TIME!!! THIS is why I play music!!!! love, g #DiveBarTour pic.twitter.com/eoId2zjGSW

— Garth Brooks (@garthbrooks) September 24, 2019