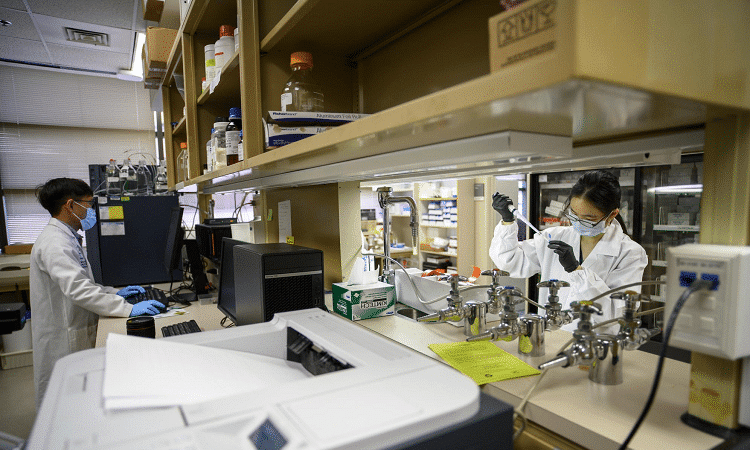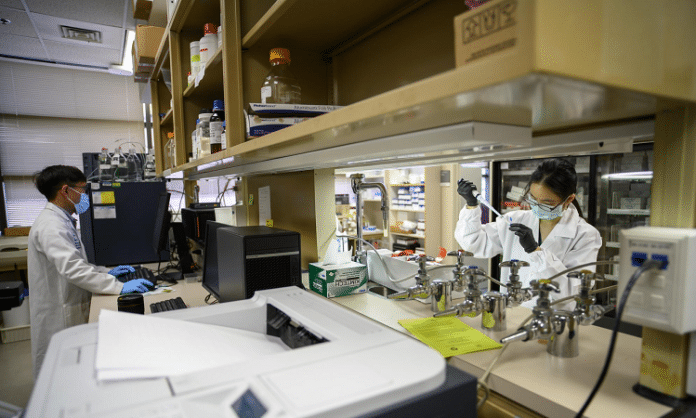 Updated 12/29/2021 at 5:30pm to add information about Tito's Vodka grant.
When the scourage of the pandemic finally ends, it may well be partly thanks to a new vaccine developed right here in Texas.
Quick Facts:
The vaccine is a protein sub-unit vaccine.
Developed at Texas Children's Hospital Center for Vaccine Development in Houston.
The vaccine was NOT patented in order to ensure it could be produced at a low cost.
The vaccine is easier to produce than current vaccines and can be made in far larger quantities.
Development team led by Texans Dr. Maria Elena Bottazzi and Dr. Peter Hotez.
Funding for vaccine development came in part from a $1 million grant by Tito's Vodka.
This morning Professor Peter Hotez MD PhD, Dean of of the National School of Tropical Medicine at Baylor College of Medicine and Co-Director at the Texas Children's Hospital Center for Vaccine Development, announced on Twitter that a new vaccine developed by himself, Dr. Maria Elena Bottazzi, and their team of 20+ scientists had been given Emergency Use Authorization (EUA) by the Drugs Controller General of India.
They are referring to their vaccine as "The World's COVID-19 Vaccine", did not patent it, and are working with global production partners to scale production to over 100 million vaccines per month globally. In short, the vaccine is a gift from these Texas medical scientists to the global community.
I am absolutely blown away by this news and in total, complete, utter shock that it exists.
Here's our official announcement from @TexasChildrens @BCM_TropMed on our partnership with @biological_e to vaccinate the world beginning with this EUA in India 🇮🇳 https://t.co/ROA0cpcBva

— Prof Peter Hotez MD PhD (@PeterHotez) December 28, 2021
According to a statement from Texas Children's Hospital in Houston, TX where the vaccine was developed, the goal is to ultimately have this new vaccine mass produced at a larger scale than current vaccines and distributed among less developed nations. India is the first to approve the usage but the team is working with Bangladesh, Indonesia, and Botswana right now.
Named CORBEVAX™ the vaccine is a protein sub-unit vaccine against COVID-19 which works differently than mRNA vaccines and Vector vaccines. The protein sub-unit vaccine only contains S proteins, harmless parts of the COVID-19 virus that your body's immune system can easily recognize, without using gene editing techniques or using full copies of the virus.
The protein sub-unit vaccine has another benefit over its mRNA counterparts (which are currently the most widely used), it can be easily produced at large scale and inexpensively. For countries like India with large populations this is an unbeatable combination.
"Protein-based vaccines have been widely used to prevent many other diseases, have proven safety records, and use economies of scale to achieve low-cost scalability across the world, Our decade-long studies advancing coronavirus vaccine prototypes has led to the creation of this vaccine, which will fill the access gap created by the more expensive, newer vaccine technologies and that today are still not able to be quickly scaled for global production." – Dr. Maria Elena Bottazzi, Professor and Associate Dean of the National School of Tropical Medicine at Baylor and Co-Director of the Texas Children's Hospital Center for Vaccine Development.
Texas Children's worked with Baylor College of Medicine to in-license the vaccine and development process to Hyderabad-based Biological E. Limited after the vaccine passed Phase III clinical trials and proved to be safe, effective (immunogenic), and well-tolerated by participants.
Biological E. Limited has already created 150 million doses and has capacity to produce 100 million per month.
Dr. Peter Hotez posted a Twitter thread about why he believes the CORBEVAX™ vaccine is a "BFD" (big deal) in numbered list format (all of the following list items are his quotes):
BioE [India-based manufacturer] now has 150 million doses ready now, and will be making 100 million per month.
In so doing our Texas Children's Vaccine Center has just matched or DOUBLED the US Government current commitment to global vaccine equity.
We technology transferred our vaccine and helped in its co-development with BioE with NO PATENT and no strings attached.
As a result it should be the least expensive COVID vaccine available yet.
It uses an older recombinant protein yeast fermentation technology similar to that used for the recombinant hepatitis B vaccine which has been around for 40 years.
It was authorized based on superiority studies to another well established COVID vaccine.
This vaccine can be made locally all over the world, and we've now technology transferred our Texas Children's vaccine to producers in India, Indonesia, Bangladesh, Botswana.
Our Texas Children's Center does not plan to make money on this, it's = a gift to the world.
There's a lot of things that make me be proud to be a Texan. Today that happens to the be incredibly talented and giving team at Texas Children's Hospital Center for Vaccine Development. Y'all are amazing!
UPDATE: This is the same vaccine that Tito's Vodka gave a $1 million grant in support of last year. You can read about that grant here: https://www.bcm.edu/news/titos-handmade-vodka-gives-1m-grant-for-covid-19-vaccine
Disclosure Notes:
I have no financial or other connections to Baylor, Texas Children's, or Biological E. Limited but have invested in medical companies making vaccines such as Novavax in the recent past and may do so again in the future. I am not a medical doctor or scientist, virologist, or microbiologist and defer to experts for any facts on these matters. Nothing in this article is intended to be medical or financial advice.
---
Featued photo a picture of the CVD lab courtesy of Texas Children's Hospital Center for Vaccine Development