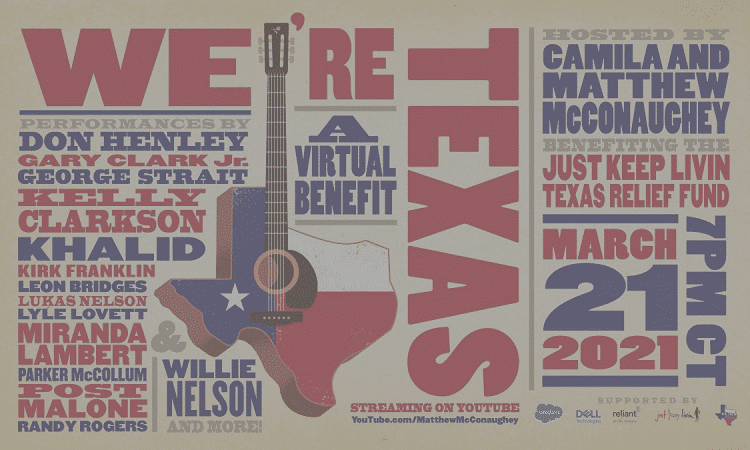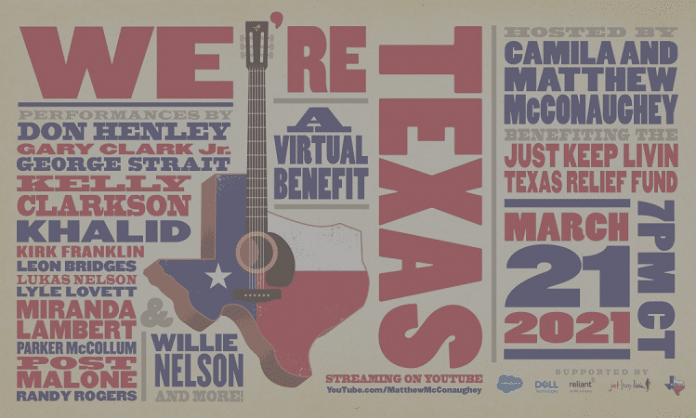 This morning Texas legend and acting professor at University of Texas at Austin, Matthew McConaughey along with his wife Camila announced they will be hosting a "virtual revival" to benefit their 'Just Keep Livin Foundation' Texas relief fund to support recovery from the winter storm disaster a few weeks ago.
The online benefit concert has one heck of a musical lineup of Texas musicians across genres and political lines, including:
George Strait
Post Malone
Leon Bridges
Lyle Lovett
Kelly Clarkson
Willie Nelson
Khalid
Don Henley
Miranda Lambert
Lukas Nelson
Randy Rogers
Parker McCollum
Kirk Franklin
Gary Clark Jr.
The event will take place live on March 21st on Matthew's YouTube channel with viewers encouraged to doante to the non-profit on their website here: www.JKLivinFoundation.org
Go to his YouTube channel here: YouTube.com/MatthewMcConaughey
Announcing "We're Texas", a virtual revival where we can all come together to help Texas recover from the winter storm. Join me, @iamcamilaalves @jklivinFNDN and an ALL-STAR Texas lineup with MANY more special guests to be announced next week. pic.twitter.com/U9wyRmM9Qa

— Matthew McConaughey (@McConaughey) March 12, 2021
If we have nice weather on the day of the concert and if you want to go full Texan for this event we recommend firing up the smoker, getting an inflatable TV for your backyard, and projecting the event for the whole family to enjoy while drinking an ice cold Shiner, Lonestar, Dr. Pepper, or Big Red.
Event Details
Date: Sunday March 21st
Time: 7pm Central
Location: Online – Matthew McConaughey's YouTube channel
Why this is COVID-safe