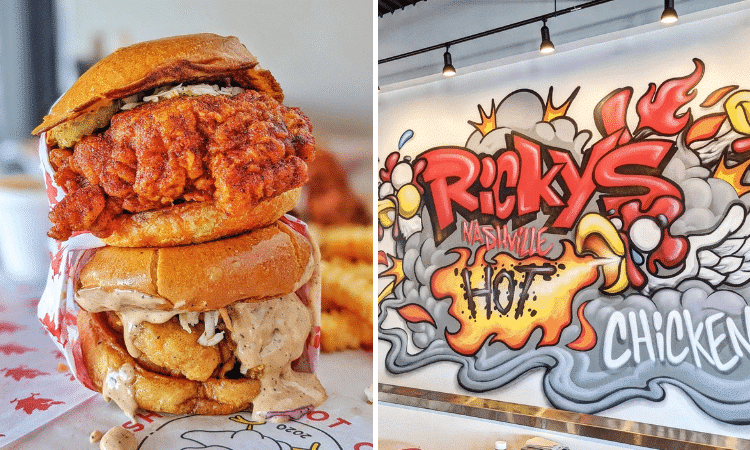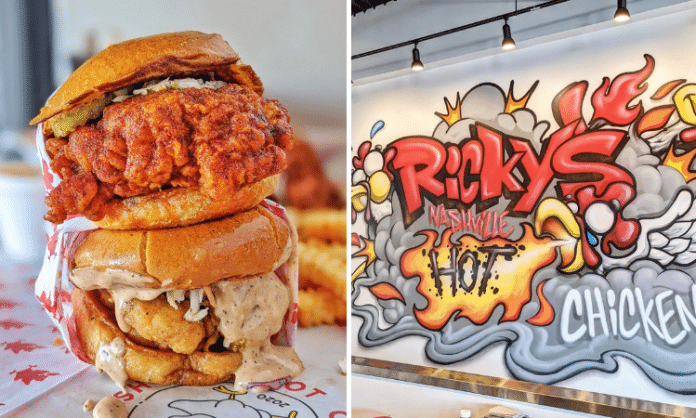 The Nashville hot chicken craze continues as Ricky's Hot Chicken, originally from Richardson, opens their second location in Arlington.
Ricky's Hot Chicken is bringing their famous Nashville-style hot chicken to Arlington's Arbrook Oaks Plaza–and crowds are loving it. Ricky Tran, chef and owner of Ricky's Hot Chicken, decided to open the new restaurant to cure the Nashville-style chicken craving in Arlington. The Ricky's Hot Chicken Arlington soft opening on January 27 drew a long line of patrons.
Highlighted throughout the menu is Nashville-style chicken which is also guaranteed to be 100% Halal and both peanut and dairy free. In addition to this, Ricky's menu also includes chicken pieces, chicken tenders, sandwiches, vinegar slaw, chicken & waffles, and more!
As part of its weekend specials, waffles and chicken are available for grabs. It's "Everything Else" menu includes its famous chicken sandwich known as "The Sando"–which is composed of chicken breast sandwiched between two buttered buns slathered with comeback sauce and vinegar slaw.
Extras include pickles, wings, comeback sauce, ranch, fountain soda, and banana pudding for dessert. To find out more about why crowds are flocking to Ricky's, check out their website and menu here.
Check out the new Ricky's Hot Chicken location at 3710 S. Cooper St. Ste 138, Arlington, TX 76015. They are open Monday, Thursday, Friday from 4pm – 9pm, Saturday & Sunday 11am – 2pm, 4pm – 9pm, and closed Tuesday & Wednesday.
If you're in the Richardson area, don't miss out on the original location at 100 S. Central Expy. Suite 18, Richardson, TX 75080.
---
Featured image credit: Tim VS Food Facebook