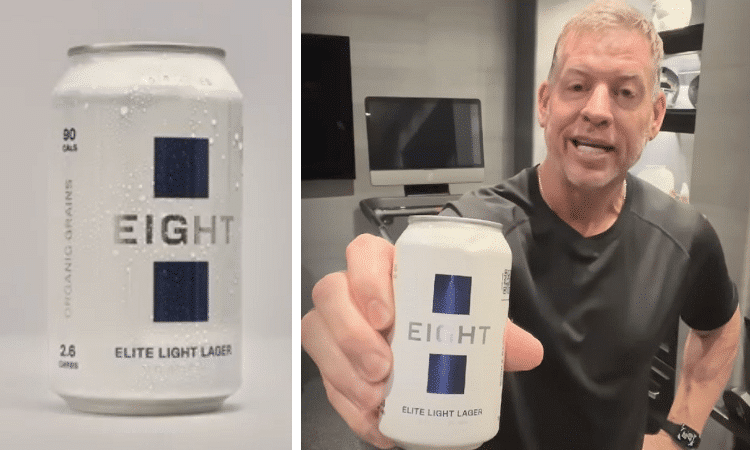 Will you toss back a Troy Aikman beer on gameday?
Find EIGHT Beer at these Texas establishments:
Troy Aikman is one of the most legendary names in Texas sports history having led the Dallas Cowboys to 3 Super Bowl Championships in the 1990's that they still talk about as if they happened just last year. He was also named a Pro Bowler 6 times, was the MVP of Super Bowl XXVII, had the longest career of any Dallas Cowboys quarterback to date, and was inducted into the NFL Hall of Fame in 2006.
After his NFL football career ended Troy moved on to other things as many professional athletes do. Troy went in to broadcasting helping announce NFL games for Fox Sports, co-owned a NASCAR racing team with Roger Staubach, was also a part-owner of the San Diego Padres (yuck!) for awhile, and built a restaurant at Texas Live! in Arlington, TX that bears his name (Troys).
Now Troy Aikman is aimming his post-NFL pursuits cannon at the beer market with a brand new light lager beer called EIGHT.
Excited to finally share this project with y'all. It's been 2 years in the making
with a lot of hard work and dedication. I hope you enjoy it as much as I do. Be
sure to give @drinkeightbeer a follow & stay tuned for more🍺 pic.twitter.com/rpAfYzMb4N

— Troy Aikman (@TroyAikman) January 4, 2022
Troy and his marketing team refer to it as an "elite light lager" and have focused the beer very specifically at younger fellow athletes, a market currently dominated by Michelob Ultra and other similar low-carb beers. At 90 calories and 2.6 grams of carbs per 12 ounces the EIGHT beer edges out Michelob Ultra which has 95 calories and 2.6 grams of carbs per 12 ounces.
EIGHT is made by Eight Brewing Company, a new brewery located in Austin, TX and will be available to Texans next month (February 2022). There's no firm date or distributor noted so we're not sure if you'll be able toss back any of Troy's beverage in time for the Super Bowl which just might feature the Dallas Cowboys (fingers crossed).
The cans for "8," the new light lager by @TroyAikman are really clever. If your brain doesn't immediately spot the 8, the design looks random. When you see the 8, you can't unsee it. pic.twitter.com/KnA2PS7ges

— Sam Farmer (@LATimesfarmer) January 5, 2022
Not only is this a new Texas brewed beer by a legendary Texan, but it is also built to give back to his fellow Texans. The beer's website says they currently donate 1% of all revenue to local organizations here in Texas that "work tirelessly to expand access to better nutrition and physical activity for those whose circumstances hold them back". According to the EIGHT website currently that 1% is all going to 'The Common Market' a non-profit food distributor operating in the Houston, TX area.
More Info on the release of EIGHT beer:
Release date: February, 2022
Available at: See top of article
Will you be giving Troy's beer a try when it comes out?
Updated 2/7/2022 to add places the beer can be purchased.
---

Featured photo a compilation of a screenshot from the EIGHT video and a photo of Troy holding his beer can, both embeded above from Twitter