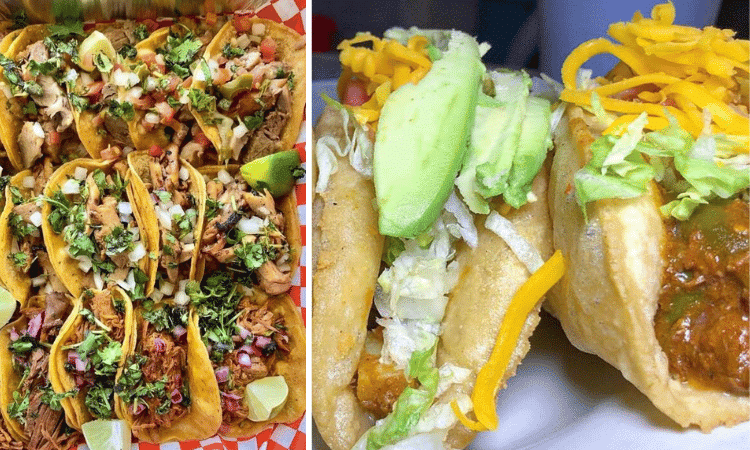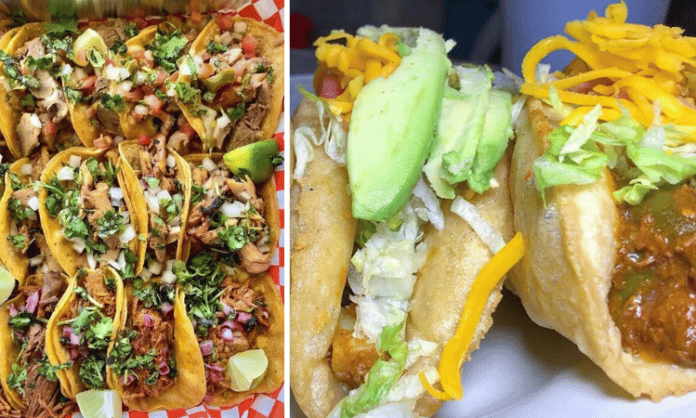 Although San Antonio is mainly known and visited for the Alamo and RiverWalk, its Tex-Mex cuisine is another thing you can't miss when you are in the area. Next time you're in San Antonio, check out one of these delicious taco places that will not disappoint. These tacos are so delicious that when you're done chowing down, you'll be dreaming (and drooling) about getting another plateful.
These tacos ain't your typical, processed, made-for-the-masses tacos either. To make this list, the tacos need to be extra special and boast fresh, authentic flavor. Whether you love crispy tacos, soft tacos, or puffy tacos, this ultimate list of the best tacos in San Antonio will help you find your next favorite taco joint in Alamo City.
1. Taquitos West Avenue
2818 West Ave, San Antonio, TX 78201
12734 Nacogdoches Rd., San Antonio TX 78217
View this post on Instagram
Well-known and well-loved for their high-quality, mouth-watering tacos and other eats, you can't go wrong visiting this fast-casual restaurant. With 2 locations in the San Antonio area, they've got you covered as you roam the city.
The main stars at Taquitos West Avenue are the tacos al pastor which are served Thursday through Sunday. They also serve sudadero, carne asada, and tripas tacos if you visit on another day or just want to try different flavors. Don't forget to grab some authentic Mexican drinks to wash your tacos down like jarritos, Mexican coke, and aguas frescas.
On the panderia (bakery) side you'll find sweet treats that'll make a perfect addition to your breakfast tacos or as a snack for later con cafecito. You can take your food outside or stay indoors for exceptional dine-in service.
Even better, they're open every day and almost all day, opening at 8am and closing at 11pm on weekdays and even later on the weekends. So no matter when your taco cravings hit, these delicious tacos and great restaurants will be your saving grace.
2. Garcia's Mexican Food
842 Fredericksburg Rd, San Antonio, TX 78201
View this post on Instagram

If you live in San Antonio you probably already know (and love) this 60-year-old staple Alamo City eatery. Garcia's legendary, award-winning brisket tacos are part of the all-star lineups of tacos here including an array of breakfast tacos, a picadillo taco, machacado a la mexicana taco, and more taco and non-taco eats.
When you're there, you can feel and taste the family love that goes into their restaurant and food. Their fresh quality ingredients and family vibe really set this place apart.
3. Original Donut Shop
3307 Fredericksburg Rd, San Antonio, TX 78201
View this post on Instagram

Whoever had the idea to combine a donut shop with a quality Mexican restaurant is honestly a genius and my new best friend.  At The Original Donut Shop, you can get your breakfast grub on with fresh breakfast tacos and freshly baked donuts. If you don't feel like dining in, they also have 2 drive-thrus – 1 for donuts and 1 for tacos and other food.
They have typical donut shop hours meaning they open and close early, opening at 6:00 am most days and closing around 2:00 pm so be sure to get there early.
4. Ray's Drive Inn
822 SW 19th St, San Antonio, TX 78207
View this post on Instagram
Another Alamo City staple, West Side's Ray's Drive Inn has been serving up flavorful puffy tacos in authentic drive-in style since the 1950s. Ray's is a small but mighty eatery with delicious tacos and other eats, excellent service, and great vibes plus, you can eat fresh, puffy tacos from the comfort of your own car (or dine in if you really want). They are actually home of the original puffy taco!
5. Tacos and Chela Mexican Kitchen
9902 Potranco Rd, San Antonio, TX 78251
View this post on Instagram

Even though Chela's hasn't been on the scene as long as some of the other restaurants on this list, they are still a (delicious) force to be reckoned with. Their fresh traditional street tacos are mouthwatering and served with charro beans, onions, cilantro and lime with the option of adding some queso fresco (which we highly recommend you do!). You can choose from sirloin, birria, pastor, chicken fajita, or carnitas – or even do a mix of them.
Other than their street tacos, you can get their other tasty, fresh tacos including charro tacos, shrimp tacos, birria tacos, or even toreado tacos and of course, feel free to try the rest of their fresh menu.
6. Tacos n' Salsa Mexican Cafe
5123 N Loop 1604 W Acc Rd, San Antonio, TX 78249
10222 Huebner Rd Ste 108, San Antonio, TX 78240
View this post on Instagram
Another great spot to get your breakfast taco fix is at the fast-casual restaurant Tacos N Salsa and with 2 locations in San Antonio, it's even easier to get your fix. Both their classic and specialty breakfast tacos are made with their fresh handmade tortillas and fresh daily-made salsa.
The most popular, must-try tacos here are called the Trash Can tacos (cause they're made with "a little bit of everything). And don't let the name fool you, these tacos are high-quality, fresh, and delectable.
7. Taqueria Datapoint
4063 Medical Dr, San Antonio, TX 78229
1702 W Gramercy Pl, San Antonio, TX 78201
4503 De Zavala Rd, San Antonio, TX 78249
View this post on Instagram

Beloved by locals so much that it has 3 San Antonio locations, Taqueria Datapoint boasts delectable, fresh, rich tacos that skimp on the grease but not on the flavor! Served with fresh onions, lime, and cilantro, these delicious no-frill tacos are available early and late night. All 3 restaurants open up at 6am every day and close between 11pm-1am depending on the location and day. Breakfast, lunch and dinner tacos anyone?
8. Tacos el Regio
12757 Nacogdoches Rd, San Antonio, TX 78217
2726 N St Mary's St, San Antonio, TX 78212
View this post on Instagram
Great, quick service, reasonable prices, and fresh eats – you can't go wrong at this straightforward Mexican food truck! Since being founded in 2007, Tacos el Regio uses only the freshest ingredients, the highest-quality meats, and most authentic Mexican spices.
The Nacogdoches location is open until 1am Sunday through Thursday and until 3am on Friday and Saturday while the St. Mary's location is open until 3am every day – so whenever those late nights taco cravings hit, head over to Tacos el Regio for some delectable tacos.
 9. Chela's Tacos
5231 Broadway APT 117, San Antonio, TX 78209
3420 N St Mary's St, San Antonio, TX 78212
View this post on Instagram
Starting off as a humble food truck near the University of Texas at San Antonio, Chela's Tacos now owns a brick-and-mortar location in addition to its food truck. This low-key counter-serve restaurant serves your standard, yet delicious Mexican eats – including tacos of course. Choose between handmade corn or flour tortillas for your breakfast, lunch or dinner tacos.  Pair your food with some of their beer or wine and you're in for an even more elevated experience.
10. Henry's Puffy Tacos
6030 Bandera Rd, San Antonio, TX 78238
3202 W Woodlawn Ave, San Antonio, TX 78228
View this post on Instagram
This casual restaurant has been family-run since 1978. They're famously known for puffy tacos in San Antonio.
Local legends and birthplace of the famous San Antonio puffy taco revolution, Henry's Puffy Tacos is one of, if not the top puffy tacos places in Alamo City. Love by generations, these beloved puffy tacos have a crispy deep-fried exterior witha slightly chewy interior, are topped with lettuce, tomatoes, and cheese, and are loaded with your choice of delicious fillings including picadillo, shredded chicken, carne guisada, spicy beef fajita, and spicy chicken fajita. Wash down your tacos (or other yummy Mexican eats) with a margarita and you're in for a helluva good time. Note that their Express location on Woodlawn is not full-service but is still fully delicious and has great quality service.
Where will you get your next taco fix in Alamo City?
Your next fulfilling breakfast, lunch, or dinner tacos are just a drive or drive-thru away. So what are you waiting for?
What's your favorite place to grab some tacos in San Antonio? Let us know in the comments below!
Methodology
We gathered information from each restaurant's official website, social media pages, and company business pages (i.e. Google Maps listing), to review, rate, and rank each of these tacos and restaurants based on the factors below.
Quality of tacos (freshness, flavor, presentation, pricing vs portion, etc.)
Authenticity of Mexican flavors (flavor, ingredients, etc.)
Quality of service & atmosphere (from recent online reviews. photos)
Recent ratings and reviews
---
Featured image credit: Left – Tacos and Chela's IG, Right – Ray's Drive-In IG