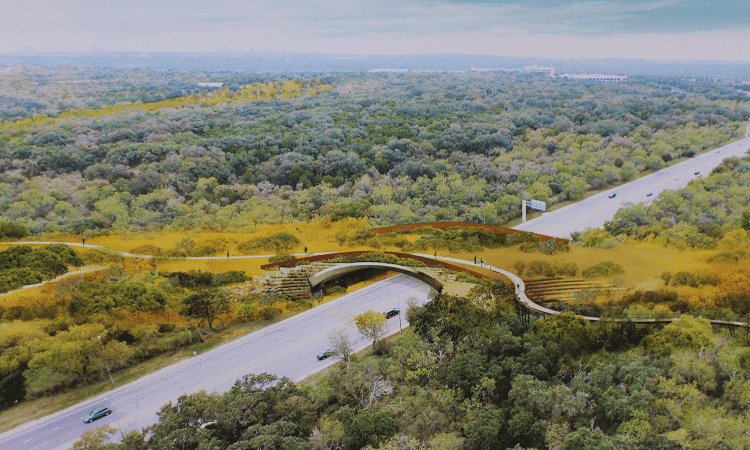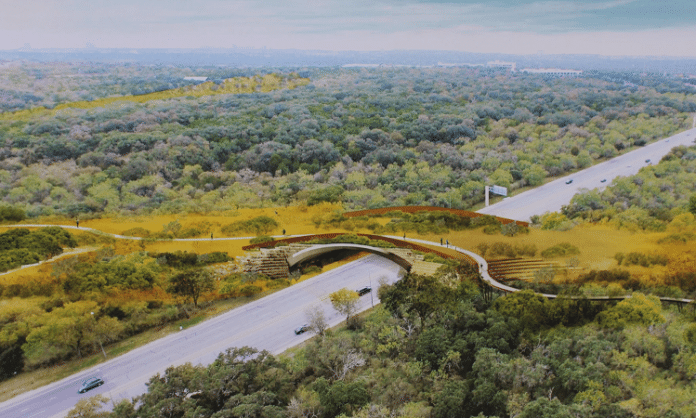 Most bridges in human history have been built for humans or their vehicles only. In the past few decades humans though have started building what are called land bridges or wildlife bridges to accomodate animals crossing over manmade structures like highways. These wildlife bridges help reduce vehicle collisions and help local wildlife thrive by providing safe ways for them to cross dangerous parts of our human world.
Now in San Antonio the largest wildlife bridge so far in the USA has been built. Sitting at 165 feet wide and nearly 200 feet long, the bridge connects the two sides of the Phil Hardberger Park, a massive ecological wonder in North San Antonio built back in the early 00's. The bridge comes complete with native trees, grasses, bushes, and shrubs to offer shelter and food for native wildlife as they cross from one side to the other and includes a walking path for humans to use.
"For many years, the Robert L.B. Tobin Land Bridge was only a dream. Thanks to overwhelming community support of the 2017 Bond, the generosity of donors from across the city and the hard work and dedication of so many, the vision is now a reality," – Phil Hardberger, former San Antonio Mayor
In 2007 the city of San Antonio built the Phil Hardberger Park after the 2007-2012 Bond Program was passed by residents. The park sits on an old 330 acre dairy farm with large open spaces and an old stone house, but had one major flaw at the time of the purchase – a highway was set to be built right through the middle of the property. Since the park's founding it has been split in half by Wurzbach Parkway making visiting the park difficult for San Antonio residents having to drive from one side to another.
That's when the city had a crazy idea, what if they built a massive wildlife over the highway to connect the two sides of the park? Before work began a private endowment setup by Robert L.B. Tobin donated the money needed to study the feasability of the bridge and then once it was approved the endowment kicked in the rest of the private money needed to complete the project, in return the city has decided to name the bridge for its biggest supporter.
It took a little over two years from breaking ground on the land bridge to complete it, but now that it's open the bridge and the park should be must visit attractions for anyone visiting or living in San Antonio.
Watch Videos of the Land Bridge's Construction

Watch Videos about the opening of the Land Bridge at Phil Hardberger Park

Why this is COVID-safe
It is an outdoors attraction known for lower risk of infection
It is a public park where social distancing is easy
Address: 8400 NW Military Hwy, San Antonio, TX 78230
Website: https://www.philhardbergerpark.org/land-bridge
Map to Phil Hardberger Park – West Entrance

Featured image an artists rendering of the wildlife land bridge