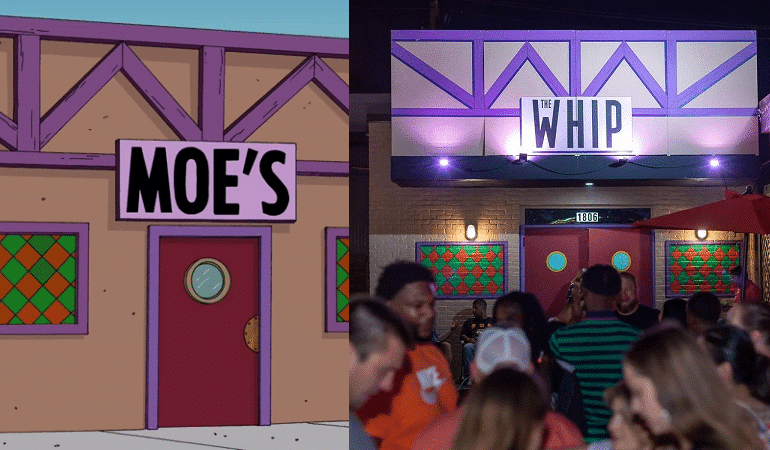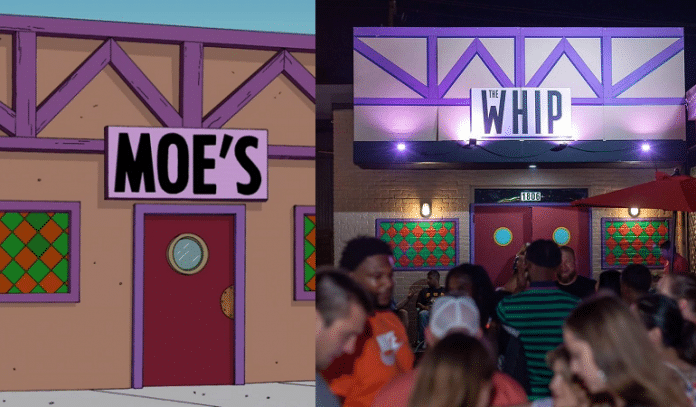 A bar and burger joint on Henderson in Dallas are dressing up for an homage to The Simpsons this summer.
Fans of The Simpsons who love to drink and eat can rejoice. This summer The Whippersnapper in Dallas and High Fives next door are turning into Moe's Tavern and Krusty Burger respectively.
The Whippersnapper is no stranger to popups having done a popup theme to celebrate Harry Potter, Family Guy, and The Office already. Now, with Dallas fully reopened and life returning to normal a popup celebrating the longest running animated series and tv show feels almost natural. To pull it off though they needed to rope their sister burger restaurant next door, High Fives, into their hijinks.
Visitors to Moe's Tavern (The Whippersnapper) can order the following beverages:
Flaming Moe – Altos Blanco Tequila, Blue Curacao, watermelon, lime, tabasco, Tajin rim. Based on the episode "Flaming Moe" Season 3, Episode 10
Bart's Butterfinger Shot – Chilled Screwball PB Whiskey, chocolate rim. Based on a 1992 Butterfinger commercial titled "The Pacifier"
Duff Beer – 40-ounce High Life Beer. Based on the episode "Duffless" Season 4, Episode 16
Lil Lisa's Slurry – Infinity Vodka, strawberry, lemon basil cordial, soda. Based on the episode "The Old Man and The Lisa" Season 8, Episode 21
Visitors to Krusty Burger (High Fives) can order the following food items:
Krusty Burger – Smash patty topped with cheddar cheese, lettuce, tomato, pickles, and a secret sauce
Heat Lamp Dog – Nathan's Famous All-Beef Hot Dog on a bun
Sideshow Bob Foot Long – Nathan's Famous All-Beef Foot Long Hot Dog, topped with chili, cheese, and onion
Fried Chicken Sandwich – Fried chicken, aioli, and dill pickle on a Hawaiian bun
The two popups are both the creation of This and That Hospitality, a locally-based hospitality concept group that includes Ferris Wheelers, another popular local destination.
Each of the popups has more than just food or drink items named after moments or parts of The Simpsons, they also include immersive experiences and photo opportunities (yes, even for selfies) normally reserved for theme parks. For example Moe's Tavern (The Whippersnapper) has a "Love Tester" machine and a broken jukebox. The rest, well you'll just have to see in-person on your own.
The popups started on June 10th and run through early August so you have time to get your The Simpsons experience on. Guests are encouraged to dress up like a Simpsons character when they go to either location.
Map to The Whippersnapper (Moe's Tavern)

Map to High Fives (Krusty Burger)

---
Featured image a combination of a screenshot showing Moe's Tavern from The Simpsons TV series and a photo courtesy of The Whippersnapper's Instagram account