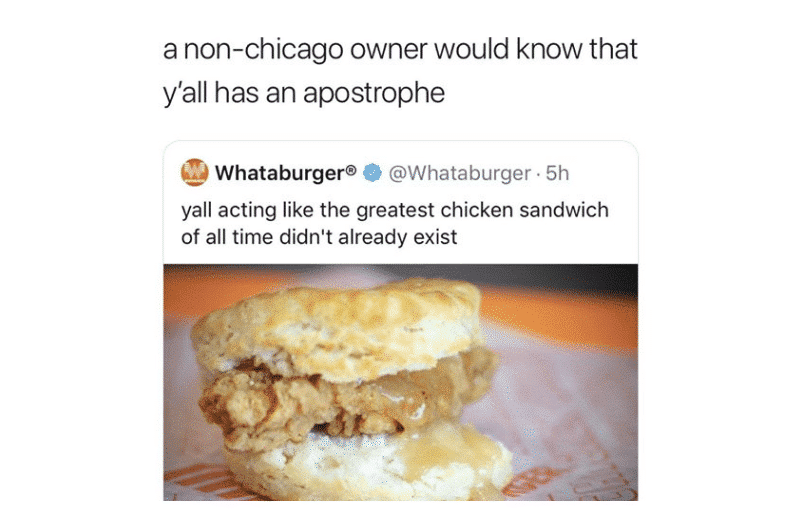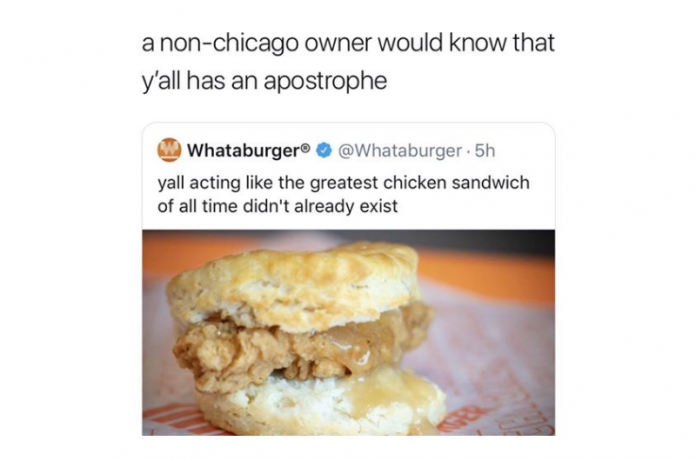 Whataburger, at one-time our state's food mascot and mecca of all Texans living abroad, was recently purchased by a private equity firm in Chicago an event that caused a lot of torment here in Texas. That pain is still fresh in the minds of Texans who follow the brand on social media as was evident when they tried entering the Great Chicken Sandwich Twitter War of 2019 between Popeyes and Chick-fil-A.
yall acting like the greatest chicken sandwich of all time didn't already exist pic.twitter.com/twri14NVat

— Whataburger® (@Whataburger) August 22, 2019
The Tweet was innocent enough, a simple reminder about Whataburger's (really delicious) Honey Butter Chicken Biscuit. There's one small problem though, they forgot the apostrophe in "Y'all" and Texans let them know how they felt about it.
WTH is "yall"???? Every Texan & southerner knows it's spelled y'all!

— BCarrz (@bcarrz) August 22, 2019
Wow. It wasn't long after some out-of-state firm bought you guys that you forget "y'all" has an apostrophe.

— Charles Bellows (@charles_bellows) August 22, 2019
*Y'all

— Evil MoPac (@EvilMopacATX) August 22, 2019
Y'all stay out of this, you sell out.

— xavier (@xavierbling) August 22, 2019
A real Texan would have said "All y'all."

— Safe & Effective (@safe_effective) August 22, 2019
Oh guys you lost your Texan already…. There's an apostrophe in y'all. Maybe y'all shoulda just used "youse guys" or whatever is said in Chicago.

— John "double vaccinated" Torres (@jjtorres72) August 23, 2019
Dear Chicago investment bankers,

In Texas… it's spelled "y'all".

— Citizen Chip 🇺🇸💉Vaxxed (@rethinkthat) August 23, 2019
We made a meme out of one of these responses and shared it on our Facebook page, it now has over 2,500 shares.
It's pretty clear Texans are still not happy about Whataburger's new owners being in Chicago, will we ever get over it? Who knows.