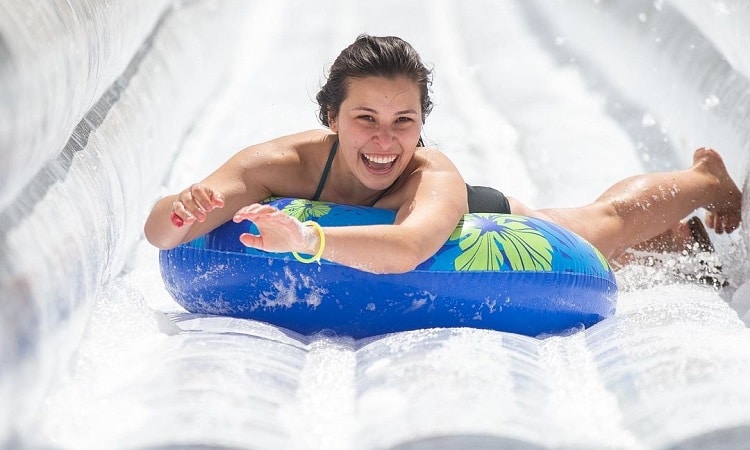 Organizers boast that this is the longest 'inflatable' slip and slide in the world and it's in the Hill Country all summer long.
Right now and throughout the summer in New Braunfels there is a massive slip and slide event with huge inflatable slip and slides that run down the slopes of a Texas Hill Country hill. The event is called "Slide the Slopes" and according to event organizers it boasts inflatable slip and slides that collectively run for over 1 mile.
Blast down the converted central Texas hill on your tube for a thrilling wet and wild good time zooming past the gorgeous views of Texas nature.
Visitors to this event will have to go down the inflatable slip and slide on a tube and while wearing closed toe shoes. Waivers are required to participate.
This event is being held adjacent to and in somewhat cooperation with Texas Ski Ranch, which is a massive 70-acre sports complex in the Texas Hill Country with a wake park, axe throwing, paintball, and a beach for relaxing in the sun.
Tickets to the pop-up slip and slide event cost between $19.99 and $24.99 per person, families can bring children but they may not be able to ride any of the slides if they do not meet height requirements.
Pricing:
Children 4 to 11: $19.99
General Admisson / Adults: $24.99
Discounts available for Military, Groups, and Families but not disclosed at press time
Note: Tickets cover a 2-hour window only and appear to be selling out extremely fast for specific dates
Hours and Location:
Website: https://slidetheslopes.com/
Address: 6700 I-35, New Braunfels, TX 78130
Slip and Slide Hours: 10am to 7pm
Map to Texas Ski Ranch:
Note: According to TSR staff the entrance for Slide the Slopes is near the entrance for TSR but is not the same entrance. They informed us the entrance was visible with signs. This is the closest map we can provide due to Google's rules.

Frequently Asked Questions:
Question: Can kids ride any of the slides?
Answer: Yes, as long as the kids are 44 inches tall or taller.
Question: Can I bring my dog?
Answer: The Slide the Slopes website does not have an answer to this, but our best guess is "No" since these are inflatable slides and could puncture easily.
Question: Is this a BYOB event?
Answer: We are uncertain, there is no information about beverages or food on the event website.
Question: Are there secure lockers to store my things?
Answer: No, make sure you bring a friend and take turns watching each others things while you slide the slides. Do not leave items unattended.
Question: What shoes are the best to wear?
Answer: Since shoes are required and it is a slip and slide it would be best to wear shoes that are ok with getting wet and a little dirty. Nothing with cleats for obvious reasons.
COVID Safety:
This event is practicing precautions against COVID-19 including limiting attendance to two hour windows and following local / CDC guidelines.
Currently masks are NOT required and are probably a bad idea to wear on a slip and slide.
Temperature checks are required to enter and handwashing / sanitzing stations will be provided.
If you are unvaccinated, are concerned about contracting COVID-19, or have immune system issues you may want to avoid this event.
Editor's Note: This event is not the same one where Natty Light plans to set a new Guiness World Record for a slip and slide at 2,021 feet just before the 4th of July. That is happening at Cannan Valley Resort in West Virginia and does not involve an inflatable slip and slide which appears to be the main distinction between the two claims.
---
Featured image courtesy of Slide the Slopes Instagram