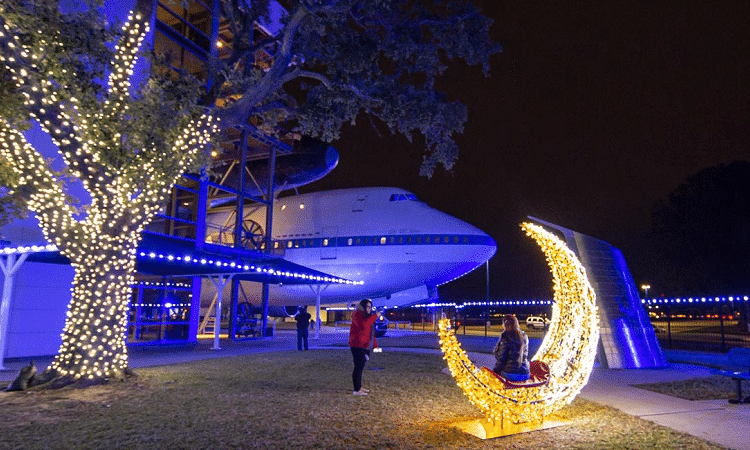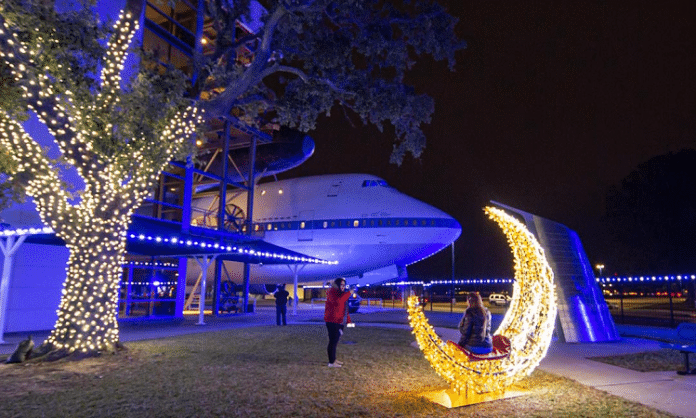 Space Center Houston's annual Galaxy Lights display opened this past weekend with more displays and more holiday lights than ever before. It's the perfect place for Texas space geeks to take selfies and get jolly. Among the other additions, this year there's a massive new 200-foot tunnel filled with 250,000 lights to help you get into the holiday spirit.
Galaxy Lights started last year and quickly became a new tradition in Houston with large 3D holiday light displays depicting the planets of our solar system and other celestial objects mixed among iconic parts of NASA and spaceflight history.
Attendees walk a wandering path through and around Space Center Houston as massive rocket boosters and airplanes, surrounded by holiday light wrapped trees and sculptures.
There are plenty of selfie taking, instagram-worty, opportunities too. Like the 15-foot wreath at the top of the SpaceX Falcon 9. Or, the 40-foot tall and 100-foot long sparkling shooting star display. Or, the 30-foot Space Launch System rocket made out of holiday lights.
There's also a new addition to the kinetic light show this year which features glowing orbs hanging overhead that move in unison to music.
For the true space geeks out there there is also a special holiday movie showing how astronauts celebrate the holidays in space along with interviews from retired astronauts.
Galaxy Lights has everything space-loving geeks in Texas need to get into the holiday spirit including lit Christmas / Holiday trees representing parter nations in the International Space Station, an indoor meteor shower, snow machines, a massive projection wall with falling snowflakes, a holiday tribute to SpaceX, an interactive light pad, and holiday music.
Why this is COVID-Safe
Most of the light display is outdoors (there are indoor portions)
Space Center staff are wearing face coverings
Social distancing is required
Tickets cost: $19.95 for non-members and $15.95 for Space Center members.
Kids age 3 and under are admitted free.
Website: https://spacecenter.org/galaxy-lights/
Map to Space Center Houston