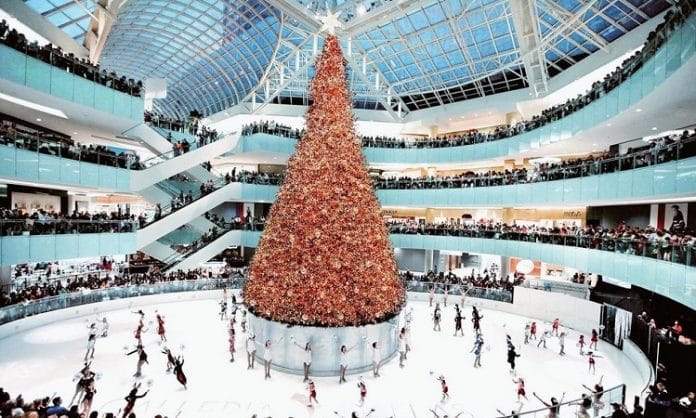 COVID-19 is keeping most Texans in their homes and away from shopping centers, but for those in Dallas who venture out and dare go indoors there's one magical holiday must see sight – the Galleria's Christmas Tree.
Placed right in the middle of their famed skating rink sits the largest indoor Christmas Tree in the United States standing at 95 feet tall. It takes a crew of roughly 50 to 80 men to install the tree and get it decorated working for up to 5 days until it's fully built and ready for the lighting ceremony which usually takes place in mid-November.
The Galleria Christmas tree has been a major holiday attraction since 1984 bringing holiday joy to North Texas residents for 36 years and the mall wasn't about to let the global pandemic take it away this year.
"Obviously this year so much has changed, and we are so glad that we don't have to change the tradition of this beautiful Christmas tree that means so much to so many" – Holly Quartaro, Galleria Dallas
This isn't a tree from the forest, the Galleria Christmas tree is built using a wooden frame that is put into place first and checked over to ensure it is safe. Then the "elf" crew begins building the rest of the tree by adding the 1,400 artifical branches and fluffing them back up, making any needed repairs to the branches, adding 10,000 ornaments, placing nearly 500,000 twinkling lights on the tree, and then topping it all off with a 10 foot high custom star at the top of the Christmas tree.
If you're desperately searching for some holiday cheer this year like we are, even just looking at this magnificent tree for a few minutes might do the trick.
While you're at the Galleria consider a social distant visit with Santa or check out the giant Menora for Hanukkah, which will be lit every night starting December 10th to the 18th.
Quick Facts About the Galleria Christmas Tree
Year founded: 1984
Height: 95 feet
Branches: 1,400
Lights: 450,000 LEDs
Ornaments: 10,000
Type of tree: Artifial
Records: Tallest Indoor Christmas Tree in the United States
Why this is COVID-safe
All customers to the Galleria must wear a face mask
All Galleria staff must wear a face mask
High touch surfaces are being cleaned more frequently
Public spaces for sitting / eating / gathering are either closed or space for social distancing
Social distancing is enforced at the mall
Stores operating at limited capacity
Read more about the Galleria's enhanced health standards here: https://galleriadallas.com/your-visit#health-standards
Editor's note: Indoors events are known to the CDC to have higher risk of COVID infection. Even with social distancing, mask wearing, and a general public trend away from shopping malls there is likely to be decent crowds at the Galleria this holiday season. We highly recommend any Texans that are immune compromised, elderly, or have other major risk factors not to attend this event.
Address: 13350 Dallas Pkwy, Dallas, TX 75240
Map to the Galleria Dallas

Featured image via the @GalleriaDallas Instagram page