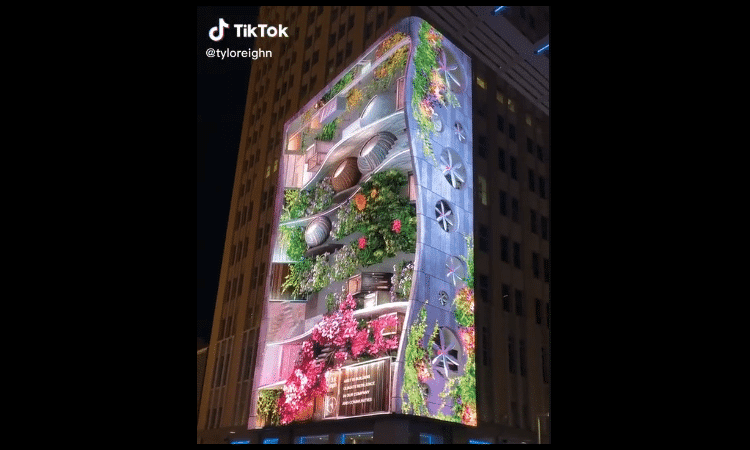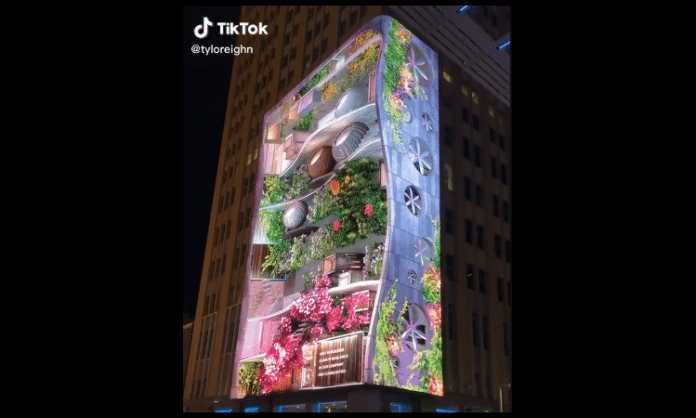 AT&T might be having a rough year losing thousands of paid TV subscribers and having their Warner Brothers and HBO brands struggle to produce content due to the pandemic, but they are still moving full speed ahead with the AT&T Discovery District in Downtown Dallas. Located right next to the headquarters for AT&T on Akard St, the Discovery District will soon be home restaurants, live music venues, along with interactive technology and art exhibits.
The AT&T Discovery District® is a new downtown destination where tech, culture and entertainment combine to create unique experiences. – AT&T Discovery District Website
Contruction on the district is not yet fully completed and AT&T has yet to announce plans for their official opening. You don't have to wait for the official opening though, while construction continues on the district, some parts are already open and ready to entertain the denizens of Downtown or any Texan that makes the journey. Those who have gone are already proclaiming it to be like walking into the future.
A large reason for the futuristic sci-fi feeling is the media wall. Located at the corner of Jackson and Akard streets inside of the Discovery District there is a massive 104 foot tall media wall that wraps around the building and puts on shows in 6k high definition with stunning immersive detail. This amazing feat of technology looks like something straight out of a Science Fiction movie set somewhere in the distant future.
Standing and gawking at the amazing wonder of the media wall isn't the only entertaining thing you can do in the AT&T Discovery District before it officially opens.
The AT&T Experience Store is currently open and allows visitors to emerse themselves in entainment and culture from the brands owned by AT&T. Experiences include a virtual train ride to Hogwarts and a Bugs Bunny augmented reality show.
There's a massive technological and sculptural artistic interpretaion of AT&T's iconic logo called "The Globe". The sculpture houses 300,000 LEDs and stands 30 feet tall. Visitors walking inside of the sculpture are treated to an light and music experience.
If you love outdoors spaces and parks in Dallas then you'll absolutely love The Plaza in the Discovery District. It's home to the iconic Golden Boy statue which is over 100 years old, a gorgously manicured green lawn, and a seating / work spaced called The Grove.
The district also has two great options for COVID-safe dining. There's the Rise + Thyme Cafe which serves coffee, croissants, salads, roasted chicken, and more. The cafe's menu and experience are curated by noted chef, TV host, and cookbook author Amanda Freitag of "Chopped" and "Iron Chef" fame.
Then there's Jaxon, a Texas kitchen and beer garden, which boasts over 30 local and regional beers and a menu that would make any Texan salivate. Menu items include Queso with Pico, Beef Chili with Fritos, Corn Dogs, Carnitas Tacos, and a Chopped Brisket sandwich. Wash it all down with any of their local Dallas brews, beers from around Texas like Shiner / ALTSTADT / Wild Acre / Karbach, or of course a nice frozen margarita.
Why This is COVID-Safe
AT&T is going out of their way to keep any visitors to the district safe from the COVID-19 disease including
Modifying any touchscreen exhibits to either be touchless or use a stylus.
Keeping surfaces clean at all times including furniture.
Having staff manage foot traffic to enforce social distancing and maintain low capacity.
Asking customers with elevated temperatures or showing symptoms to leave.
Limiting capacity or closing indoor areas.
Only allowing dining in outdoor areas with limited capacity.
Keeping outdoor seating separate to enforce social distancing.
Offering complimentary hand sanitzer in various areas.
They have itemized their COVID-19 health and safety guidelines, which are subject to change at any time. You CAN REVIEW THEM HERE BEFORE YOU VISIT
Healthy and safety experts believe outdoors activites that allow for social distancing are of lower risk. You may consider avoiding the indoor portions of the AT&T Discovery District for now and instead enjoy all of the outdoor art, entertainment, and food instead.
Find More: Things to do in Dallas
Price: Admission to the Discovery District and most ehibits is free. Check the website for invidual details and pricing.
Address: 308 S Akard St, Dallas, TX 75202
Website: https://discoverydistrict.att.com/
Map to the AT&T Discovery District

Featured image a screenshot from the video included in this article by TikTok user @tyloreighn