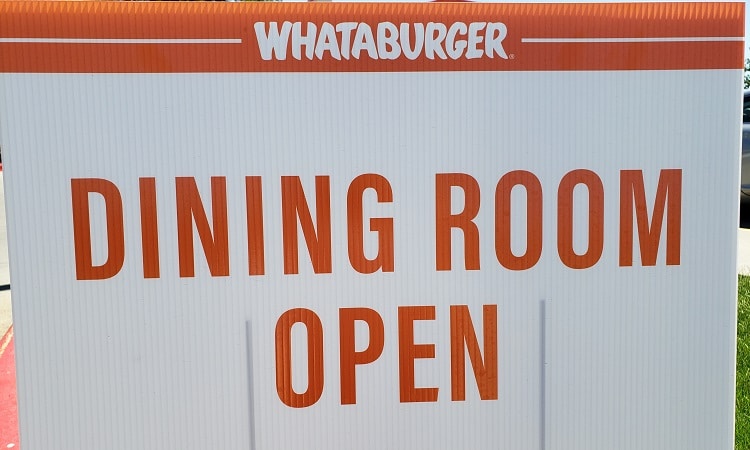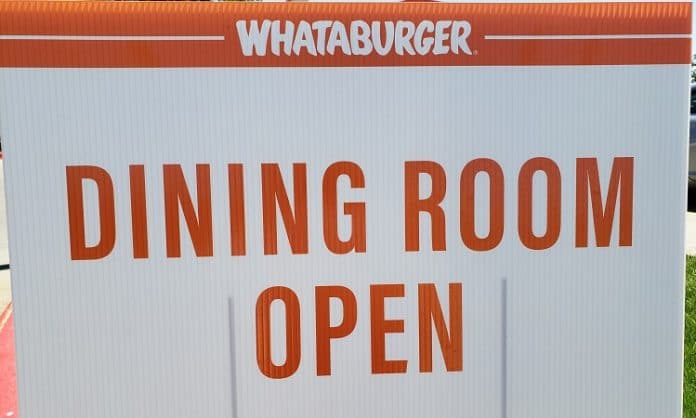 Whataburger fans REJOICE! You may soon be sitting down in your favorite spot eating a #1 with cheese, enjoying tasty fries, and chatting with your friends very soon. The Texas-based chain announced via their website that they would start opening some dining rooms across the state. For the past few months hungry Texans have been greeted with a message on the doors of Whataburger asking patrons to use the drive through instead.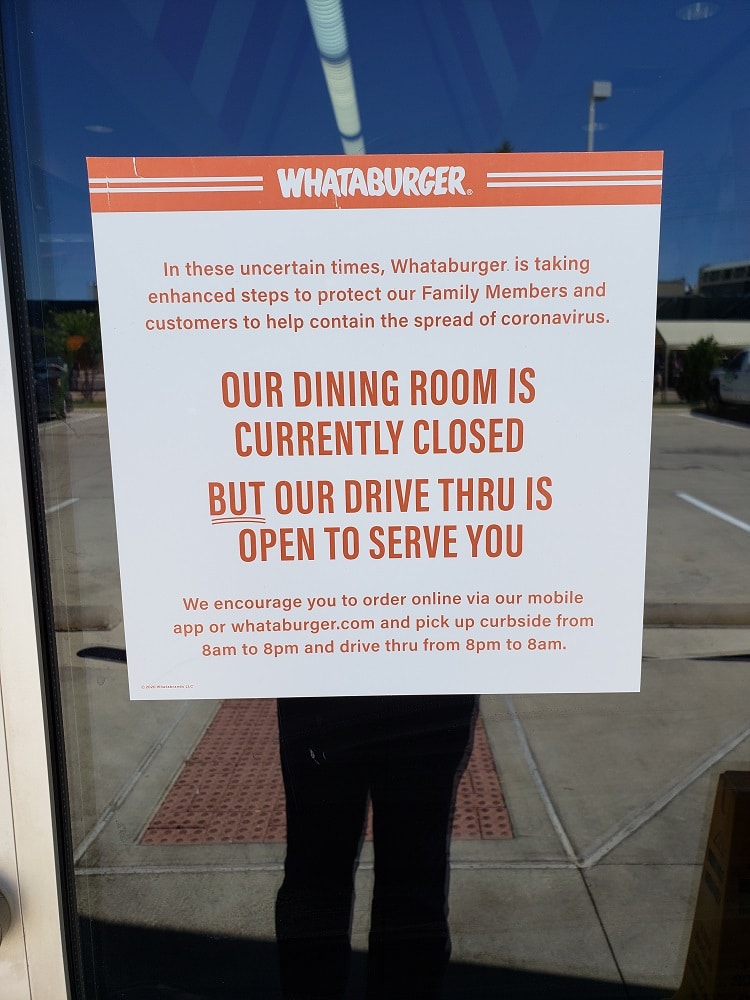 "Over the last few months, we've remained steadfast in our commitment to the safety of our employees or and our customers, and that isn't going to change. We have teams working around-the-clock taking every possible precaution into consideration, including implementing additional safety and sanitation measures, before reopening any of our restaurants." – Whataburger website
The re-openings started on Monday June 8th and have slowly been rolling out as staff is trained and new signage is put in place. Currently only select Whataburger locations are opening their dining rooms to dine-in guests and in-person ordering and those locations have limited hours. You can use the location finder on their website to see if your favorite location is participating or fine one close by.
The dine-in experience is going to be very different than what Texans might be used to. According to the website they are introducing several changes for safety and health including:
Only allowing 50 percent capacity inside our dining room at a time with designated entries and exits.
Following continued use of daily wellness and temperature checks, all Whataburger employees are required to double hand wash, use alcohol-based hand sanitizer, and change gloves at least every 30 minutes.
All employees are also required to complete a comprehensive food handling and safety course.
Whenever possible, employees should serve guests from the recommended 6-foot distance, including interacting using hand gestures, such as a thumbs-up, to provide the same great Whataburger dining experience.
Public drinks stations will be closed to help avoid employees and customers gathering in clusters.
Customers looking for a refill will be provided with a new cup.
Whataburger will continue using single-use silverware and condiments, along with disposable cups, plates, and napkins.
Strict sanitizing protocols are in place for all high-touchpoint areas, as well as counters and utensils.
Some seats and booths will be marked off to adhere to social distancing protocols.
All restaurants have added social distancing floor stickers and hand sanitizing stations.
We went out to an open to dine-in Whataburger location off of Marsh and Frankford in Carrollton, TX to see what the changes looked like and observe how the staff were being trained and were responding. The location was immaculately clean, all staff were wearing face masks and gloves, employees seemed upbeat and optimistic, there were staff members constantly wiping down surfaces and door handles, there's at least one staff member at the entrance to help explain and enforce the new rules, and the table spacing appeared to be in-line with social distancing guidelines. We also were able to witness a manager discussing with employees why the new guidelines were important to implement correctly.
One thing that stood out on our trip was that moving through the inside of a Whataburger will be similar to going to the grocery store right now. They have only one entrance and one exit, places to stand to give your order to the cashier, and arrows to guide traffic flow inside the restaurant to minimize person to person transmission.
Here's a gallery of images from our trip to dine-in at one of the few Whataburger restaurants in the state that are now allowing customers inside.
Inside of a Whataburger during COVID-19 Pandemic