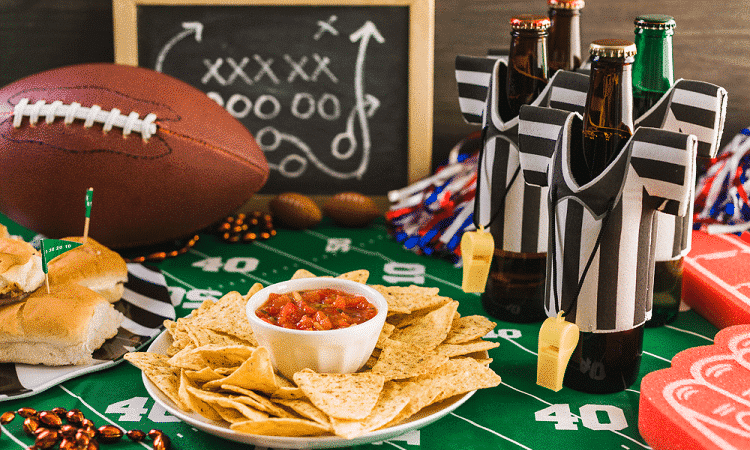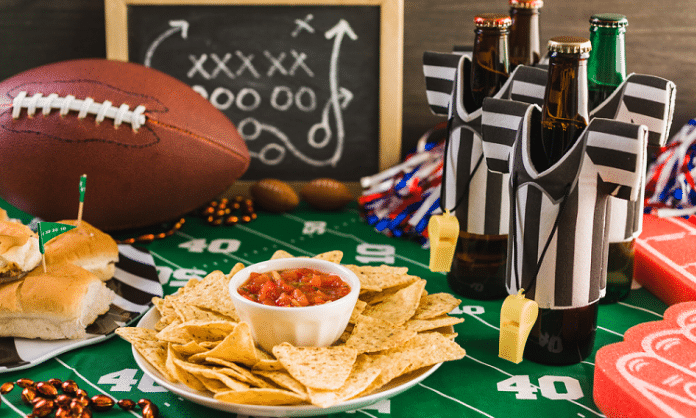 February 2023 Update: This year the Philadelphia Eagles (yuck) take on the Kansas City Chiefs in Super Bowl LVII, the biggest NFL football game of the year at State Farm Stadium in Arizona. Even though the Cowboys couldn't get passed the first round of the playoffs (again) and the Texans were the first team eliminated from making playoffs (as is tradition), many Texans are still planning on going to or hosting a Super Bowl party. One good reason why is because the Eagles are led by Channelview High School graduate (Houston, TX) Jalen Hurts and the Kansas City Chiefs are led by Whitehouse High School graduate (Tyler, TX) and Texas Tech alumnus (Lubbock, TX) Patrick Mahomes II. The Kansas City Chiefs are also formerly the Dallas Texans and have strong roots to the Dallas area including the ownership family living there to this day and also owning the soccer team FC Dallas.
If you're not sure what to bring we made this list for you based on the feedback of your fellow Texans.
Here are the favorite foods of Texas for Super Bowl parties:
Chips and Queso – 33.04%
Chips and Salsa – 12.50%
Wings – 10.71%
Tacos – 8.93%
Bacon Wrapped Jalapenos – 8.93%
Pizza – 7.14%
Little sausages in BBQ sauce – 2.68%
Pizza Rolls – 2.68%
BBQ – 2.68%
Tamales – 2.68%
Nachos – 1.79%
Cheesecake – 1.79%
Bratwurst – 0.89%
Doritos – 0.89%
Veggie Tray – 0.89%
Chips and Spinach Dip – 0.89%
Chips and Guacamole – 0.89%
Mac and Cheese – 0.00%
Jaeger Schnitzel – 0.00%
Sushi – 0.00%
Ramen – 0.00%
Soup – 0.00%
Cheese Fountain – 0.00%
Kolaches – 0.00%
Steak – 0.00%
Other pasta – 0.00%
Hotdogs – 0.00%
Hamburgers – 0.00%
Green Bean Casserole – 0.00%
Shawarma – 0.00%
Cake – 0.00%
Chicken Fried Steak – 0.00%
Pecan Pie – 0.00%
Fried Pickles – 0.00%
Salad – 0.00%
Because the Chiefs and Eagles are playing you might also consider food or drink options from both areas to liven up your party. Examples include:
Burnt Ends w/ KC Style BBQ sauce
Philly Cheesesteaks
Boulevard Beer
Yuengling Beer (the Yuengling sold in Texas is brewed here, but they are based in Philly)
Original article from February 2nd, 2020:
It's Super Bowl Sunday and this year the Kansas City Chiefs are taking on the San Francisco 49ers. Both teams have a connection to Texas, but arguably the Chiefs have the strongest connection. The team was originally founded as the Dallas Texans by SMU graduate Lamar Hunt when he started a football league called the American Football League. This would lead to the NFL creating the Dallas Cowboys and eventually a merger between the two leagues which also created the Super Bowl 54 years ago. The Chiefs offense is lead by Texas born Patrick Mahomes who went to Texas Tech. On the other side the 49ers Emmanuel Sanders was born in Bellville and went to SMU and Marquise Goodwin was born in Lubbock and went to the University of Texas.
Which ever team you're rooting for, who on those teams you're cheering for, whatever your reasons; there is a better than good chance that you are attending or hosting a Super Bowl watch party today. Most Super Bowl watch parties request that guests bring food for a 'potluck' style meal. The one question is: What food should you bring or provide to your guests?
We polled Texans in groups across Facebook to determine what their favorite Super Bowl party foods were. We made sure to try and give a diverse array of food options and allowed Texans to add more options the poll as it went along. If you're trying to figure out what snacks and food to offer at your party today, this list should be a big help.
2/1/2021 Update: This post is from last year, we are not running a poll this year because of the pandemic. If you're having a small, COVID-safe gathering for the game this weekend check out the list of popular foods to serve below. Also this year the Chiefs are returing to the Super Bowl led by Tyler, TX born and raised and Texas Tech QB Patrick Mahomes. They are playing Tom Brady (seriously) of the Tampa Bay Buccaneers.
---
Originally published: 2/2/20220
Update 1: 2/2/2022
Update 2: 2/12/2023