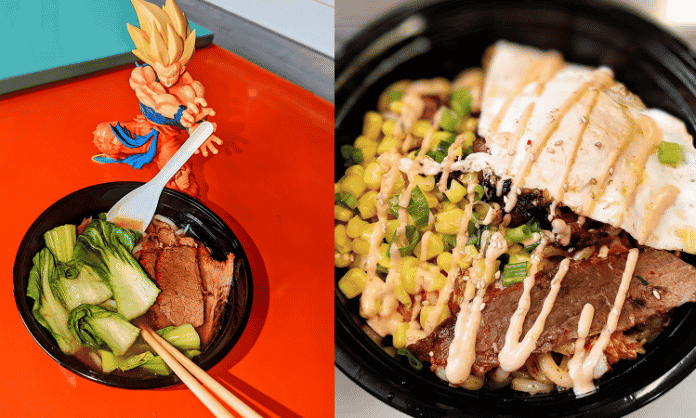 Dragon Bowl C is a Dragon Ball Z themed asian food restaurant located in Conroe, TX. The restaurant pays homage to the popular anime series with various food items, their logo, art, and the general atmosphere of the restaurant.
Check out the Sizzle Reel for the restaurant on their IG:
Dragon Bowl C started life as a food truck called "Taste The Asian" and after growing in popularity decided to do something special as a brick and mortar restaurant. Visitors are greeted at the door of the restaurant by a statue of Majin Buu one of the antagonists of the show. Inside vistors can see awesome custom artwork inspired by the show and created by fellow Texans at Cut-Toons in San Antonio.
Once indside visitors can try dishes like "Saiyan Noodle", "Dragon Bowl Pho", "Pho-Geta", and "Kamehameha" all inspired by the cartoon.
It's a great place to bring your kids or of course your adult wife / husband who is a big Dragon Ball Z fan and still goes to anime conventions. The combination of great food and an interesting atmosphere makes Dragon Bowl C an excellent choice for selfie-taking, a family road trip, or a lunch/dinner option.
Dragon Bowl C is a 45-minute drive from Downtown Houston, if you live in Houston and you want to go to Dragon Bowl C we recommend making a day trip out of it and exploring other things Conroe, TX has to offer.
Vitals:
Adddress: 118 Simonton St, Conroe, TX 77301
Website: https://dragonbowltx.com/
Map to Dragon Bowl C:

---
Featured photo a compilation of photos via the Dragon Bowl C Google Maps listing embedded above