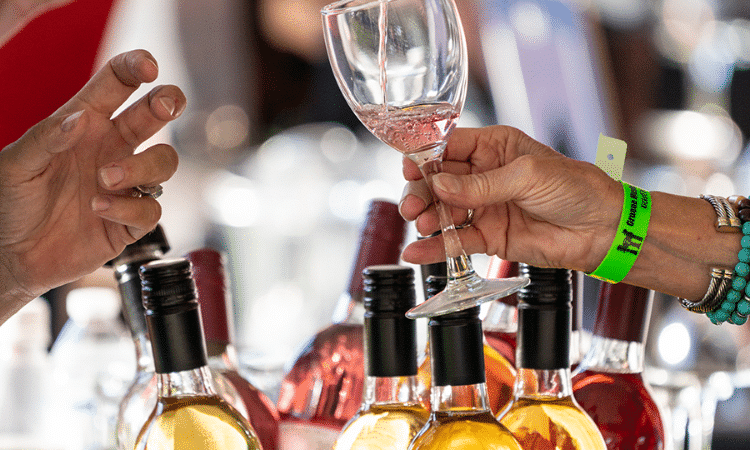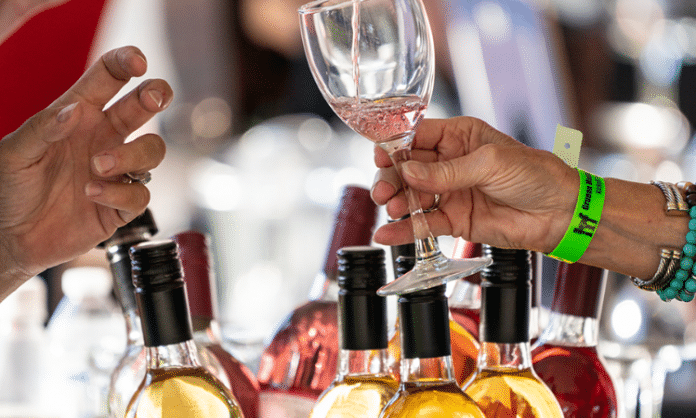 Do you appreciate good wine and good music? What if you could get both AND support a cause that helps local Texans?
If you love good wine, good music, and good causes – join the fun of this year's Gruene Music and Wine Festival! Last year, nearly $83k was raised during the virtual event to help local Texans. This year, virtual events no more! Now, you can be a part of this success in person.
This year, the wine & music event has returned to the historic district of Gruene in New Braunfels to showcase more than 100 Texas wines, along with local eats, brews and live music performances. The main event runs Friday, October 8 – Sunday, October 10 but there are event throughout October. Experience the fest yourself and fill your October calendar with the following events:
Come and Taste It
Every Thursday in October | 4-7 PM
This weekly free event will feature up to 3 different Texas wineries that will offer complimentary tastings at The Grapevine in the Gruene Historic District. There will also be live music and prize giveaways! The days for this event are October 7, 14, 21, and 28. For more info about the featured wineries, click here.
Rockin' With Texas Wine & Food
Friday October 8 | 5:15-8:30 PM
There will be a fun auction of signed guitars by best artists, performances, private performance by Aaron Watson,  a wine tasting, and a catered dinner at Gruene Hall. Check out the guitar list here.
[Update: This event is currently SOLD OUT]
Sunday Songwriter Shindig
Sunday, October 10 | Doors open at 1PM
Listen to a full lineup of Texas' best songwriters at the Sunday Songwriter Shindig! This will make for a great afternoon filled while great music. You can buy tickets here.
Music Shows at Gruene Hall
Thursday, October 7 – Sunday, October 10 | Varying Times
During Columbus Day Weekend, there will also be a series of shows at Gruene Hall that you can attend to which include the following:
October 7, Thursday, 6:30 to 10:30 PM – Free Show: Midnight River Choir
October 8, Friday, doors open at 7:00 PM – Aaron Watson
October 9, Saturday, doors open at 8:00 PM – John Michael Montgomery
Live Music in the Wine Garden
October 1 – 30 | Varying times and weekend dates
While this October-long event is not part of official fundraising efforts, it's still a great way to celebrate Texas Wine Month! Enjoy live music at The Grapevine on varying days (Thursdays, Fridays, Saturdays, and Sunday). Some events are even during happy hour so you can enjoy a little extra wine time. Click here for the specific time, dates, and a list of live performers.
Ready for some wine, music, and supporting your neighbors? If so mark your calendars now! Your October will be filled will these greats events above. You may also see more details about the events at the official event website here.
You can contact the event organizers directly through the following:
E-mail: [email protected]
Phone: 830-629-5077

The Gruene Music & Wine Fest started as a one-day event back in 1987 and was organized to promote Texas music in an exciting and fun way. As the years passed, the event has blossomed into a multi-day celebration not only to enjoy Texas music, but also to celebrate wine made in the Lone Star state and to raise funds for its beneficiary, the United Way of Comal County.
These events are presented by the continuing fundraising partnership between KNBT Radio New Braunfels and Gruene Hall. Even though the event has undergone an evolution through the years, its benefiting charity has always included and primarily been the local United Way. It is a charity whose mission is directed towards the improvement of the quality of life of the people in Comal County through providing resources to meet their basic needs.
At the first year of the festival in 1987, the event was able to raise a total of $450 for United Way. However, it didn't stop there. As the festival continues to prosper, so have the funds raised to help. Even despite the difficult times of 2020, the virtual event still managed to raise nearly $83K last year!
Be a part of this growing journey and join the fun this weekend!
---
Featured image courtesy of Gruene Music and Wine Fest 2018