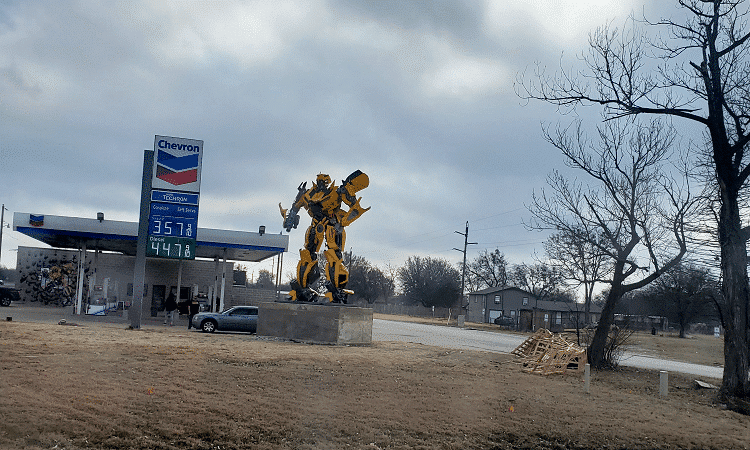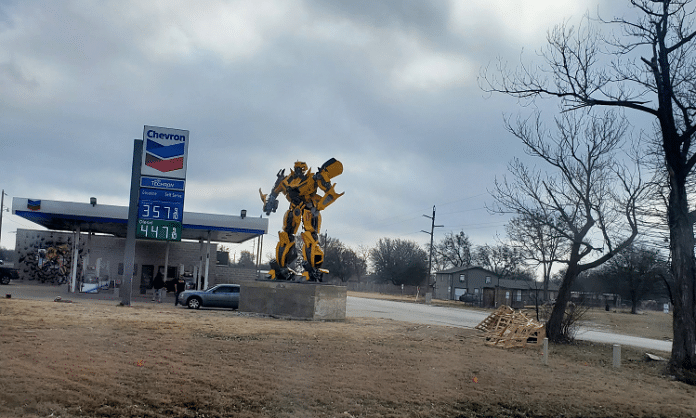 It has become a mecca for Transformer's fans
About 45 minutes east of Dallas just outside of Terrell, TX in the small town of Elmo, TX (population 1,391) at a local gas station stands a massive sculputure that looks like the Transformer beloved by many, Bumblebee. The sculpture was built out of car parts in China before being shipped to its final home, The Bee Store in Elmo.
Standing at approximately 20 feet tall the sculpture is lifesize, if not larger. Official Transformer's documetnation has Bumblebee standing anywhere from 16 foot to 17.5 foot tall. With the base included being roughly 3 to 4 foot tall (we're guessing from photos) that means the Bumblebee standing in Elmo, TX is really close to what the movie/comic/cartoon favorite would look like if he was real.
Unfortunately the sculpture doesn't talk using a radio or move any, but at night his eyes glow.
The installation has become a major attraction helping The Bee Store to double its sales and drawing parents with kids and Transformer fans from all over to the small Texas town.
The Bee Store also has a Bumblebee mural on one of its exterior walls for travelers to stop and take selfies / photos with.
Google Maps users are uploading photos of the statue to The Bee Store's profile. We've put together a gallery of some of the best photos below.
Gallery:

Map to the Bumblebee Statue at The Bee Store in Elmo, TX:

Watch a video report about the Bumblebee statue from WFAA:

---
All photos of the bumblebee statue via Google Maps, copyrights owned by respective photographers