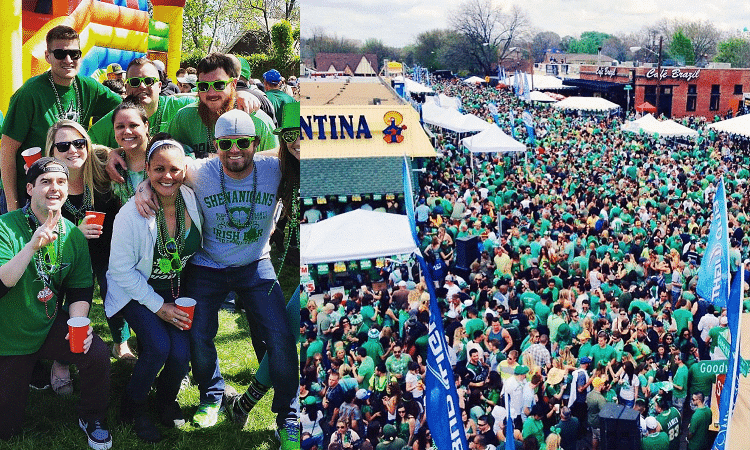 The 42nd Annual Dallas Mavericks St. Patrick's Day Parade is back and in full effect this weekend. The parade combines adult beverages, Dallas Mavericks, lots of shenanigans, and a parade for the Irish holiday. This event can get pretty congested, after all, it is covering about 2 miles with 100,000 of your fellow Dallasonians! To keep you and your entourage on track, we've comprised an agenda of a few expectations this year.
The event begins on March 11, 2023, at 4925 Greenville Ave, Dallas, TX 75206 or Energy Square and will kick off at 8:00 AM with the St. Paddy's Day Dash Down Greenville 5K Race. Join in the competition or watch from the sidelines as racers compete for cash prizes ranging from $250-$750. All racers will receive a custom t-shirt, a St.Paddy's medal, and a custom bib. After the race, begins the after party and awards ceremony and other events:
Yuengling Flight Beer Garden (21+)
Music by DJ Dame
Jason, the Lucky Leprechaun
St. Paddy's Day Tutu Contest
Donut Eating Contest
When 9:00 AM hits, so does the festival. This family-friendly affair will be filled with eating challenges, food trucks, activities, and more! At 11:00 AM, the parade begins and will start on Blackwell street, and go until 2:00 PM on SMU Blvd. Be sure to have reliable transportation because the parade will not only be packed but so will the available parking spots. It's recommended to take an Uber or catch the Dart at one of the following steps:
Park Lane Station
Lovers Lane
Mockingbird Lane
Meanwhile at the other end of Greenville Ave, on Lower Greenville, the annual St. Patrick's Day Block Party starts at 9am and ends at 5pm. Visitors can get a free shuttle from mockingbird station to safely join in the festivities. A lot of revelers get to the parade early, then slowly migrate down towards Mockingbird Station where they catch a shuttle to Lower Greenville. It is possible to walk from the end of the parade on SMU Blvd to the block party, but not advised if you have been celebrating the holiday.
Learn more about the block party here: https://www.lowergreenvilleblockparty.com/
So head down to Greenville Ave and let the Mavericks show you why the St. Patrick's Day Parade is a one-of-a-kind event in Dallas!
Vitals
Price – Free
Website – https://www.dallasstpp.com/
Address – Greenville Ave, Dallas, TX
---
Featured image a compliation of images via Instagram