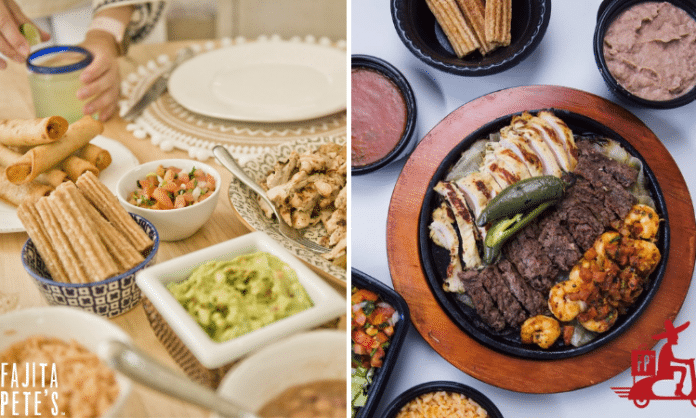 Lucky Las Colinas residents can now satisfy their fajita cravings with a quick visit to the newest Texas-based fajita eatery near them!
Texas-based Fajita Pete's has expanded in North Texas through their newest location in Las Colinas  – marking its 25th location overall!  Residing in 6550 N. MacArthur Blvd., Fajita Pete's is bringing their award-winning fajitas and authentic Mexican dishes to more lucky Texan customers.
These mouthwatering  "fresh off the grill" fajitas come in a variety of selections including chicken, beef, vegetables, and even shrimp. If that's not enough, customers can top their fajitas to their heart's delight with choices of grilled onions, cheese, pico de gallo, lettuce, or guacamole.
But that's not all–Fajita Pete's menu also includes specialties such as tacos, burritos, enchiladas, and more. If you love margaritas, you're in luck – this restaurant lets you order them in sizes as small as a cup to as large as a gallon. And if margaritas aren't your cup of tea, you can try their Horchata or their Sweet and Unsweet Teas instead.
To pacify your sweet tooth, customers can choose between a variety of Mexican desserts including churro bites, tres leches cheesecake, and sopapillas–cinnamon sugar coated fried tortillas served with caramel sauce.
If you're looking for a restaurant to cater to your private events and celebrations, Fajita Pete's also offers catering for private parties and celebrations and even a late night pity party (kidding…kind of). All you have to do is to fill up the e-form on their website. To check out their full menu or keep updated on location, head on over to their website.
Featured image credit: Fajita Pete on Facebook