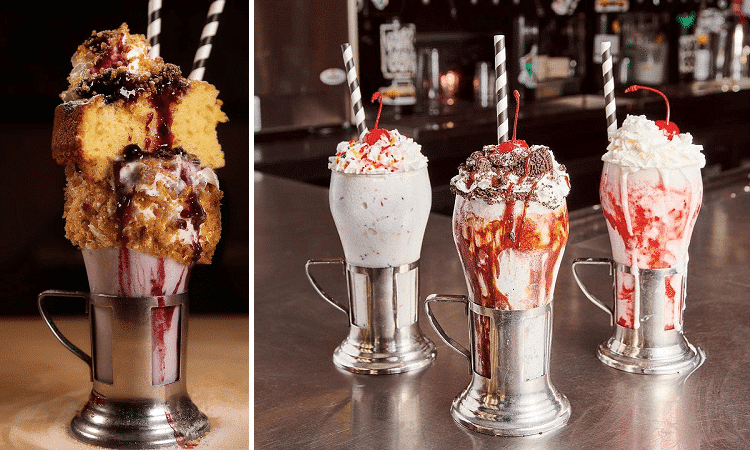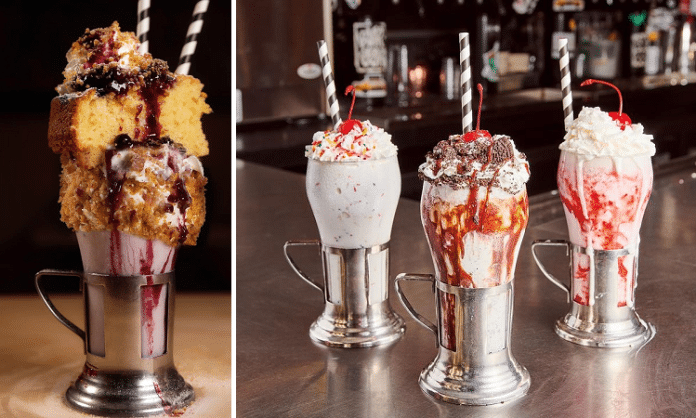 Black Tap Craft Burgers & Beer, the creator of the trademarked CrazyShake milkshakes, is ready to serve milkshake and burger lovers in Victory Park in Dallas. The burger and shake joint, which opened on August 10, is directly across from the entrance to the W Hotel, near the American Airlines Center.
It's about guilty pleasures when you enter Black Tap Craft Burgers, which offers hungry folks milkshakes, burgers, wings, and beer. There are many delightful, indulgent treats to choose from at Black Tap. Indulge your sweet tooth with the famous cake batter shake, Fruity Pebbles shake, Oreo cookie shake, or the Brooklyn Blackout chocolate shake. These oversized and heavenly milkshakes (eight on the menu) are impressive and big enough to share. How about a juicy burger? Sink your teeth into a succulent black truffle burger or the Wagyu steakhouse burger. There are plenty more burgers to select from, and you can also opt for a chicken sandwich. If you want something healthier, well, okay, Black Tap serves salads. They are also pretty delicious.
Black Tap is an American-style eatery with an impressively yummy menu. The first location was New York City's SOHO neighborhood, with only 15 seats. There are locations in Las Vegas, Dubai, Singapore, Geneva, and elsewhere worldwide, and Dallas makes 19 Black Taps globally.
Vitals
Address: 2475 Victory Park Lane, Dallas 75219
Phone: 469-341-8288
Sunday – Wednesday: 11 am – 10 pm
Thursday: 11 am – 11 pm
Friday-Saturday: 11 am – 12 am
https://www.blacktap.com
Map to Black Tap Burgers
---
Featured image via the Blacktap Instagram