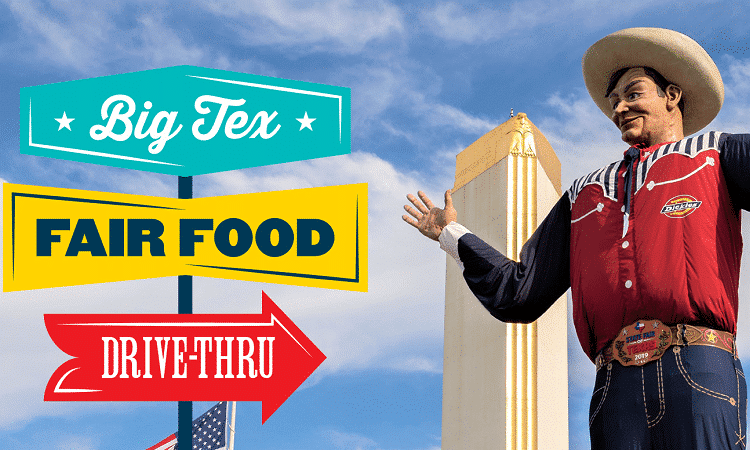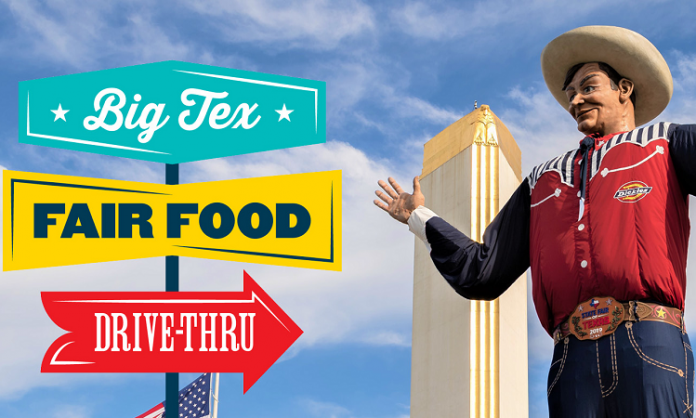 Although the usual 24-day state fair is cancelled due to the coronavirus, you can still enjoy some fair food and get a picture with Big Tex at a newly announced limited drive-thru event! It's being called the Big Tex Fair Food Drive-Thru.
About 50,000 families will be able to participate in this COVID-safe event which includes a super-limited family photo-op with Big Tex.
To make social distancing easier, participants will line up in Fair Park in their vehicles. Once you reach Big Tex Circle, you'll be able to get out of your car in your face mask and line up for your photo.
There will be hand sanitizing stations throughout the line and six feet or more of space in between groups.
Big Tex is also doing his part to make sure everyone stays safe by wearing a face covering!
Workers will also take precautions like wearing face masks and gloves while preparing your tasty treats.
The fair is offering two different photo and food packages — one that feeds one to two for $65 and another that feeds three to four people for $99.
Both packages include beloved State Fair of Texas snacks like Fletcher's Corny Dogs, cotton candy, kettle corn, and Stiffler's Fried Oreos. You'll even get a midway prize with your order and your choice of soft drinks or bottled waters.
If you don't want snacks, there's also a $25 package that just includes a photo-op with Big Tex.
When Is the Historic State Fair of Texas Drive-Thru
The Big Tex photo op version of the drive-thru State Fair event is only available on September 19th and 20th, so make sure you snag your tickets as soon as they go on sale on September 2nd!
If you just want the State Fair of Texas food drive-thru experience you can get tickets for any of these dates:
September 25th
September 26th
September 27th
October 2nd
October 3rd
October 4th
October 9th
October 10th
October 11th
October 12th
October 15th
October 16th
October 17th
October 18th
Get Your Tickets
Website: https://bigtex.com/big-tex-fair-food-drive-thru/
Why This Event is COVID-safe
Attendees mostly stay in their cars
All State Fair of Texas staff wear face masks and gloves
Hand sanitizing stations are placed throughout the event
Any groups of people are kept at least 6 feet apart
Attendees exiting their vehicles for things like using the restroom are required to wear a face mask
Address: 3921 Martin Luther King Jr., Blvd., Dallas, TX 75210
Featured photo a screenshot of from the BigTex.com website by TexasisLife