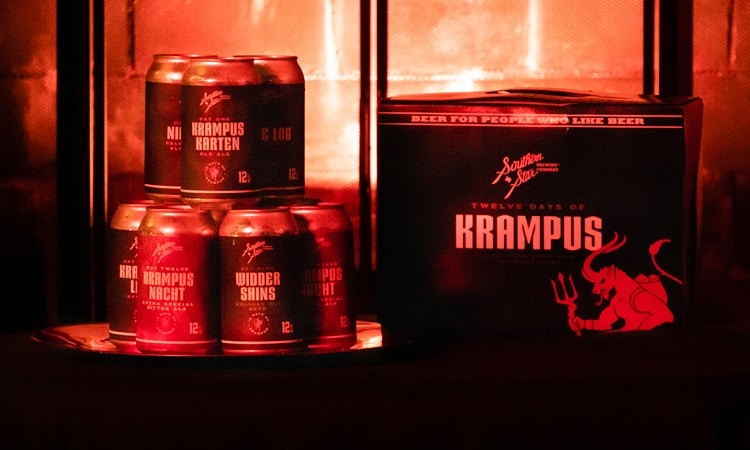 Southern Star Brewing Company in Conroe, TX released a seasonal holiday craft beer package with a bit of a unique twist. The collection is called the "12 Days of Krampus" and it comes with 12 unique beers brewed just for the 2021 Christmas / Holiday season.
This year's special Christmas beer pack was inspired by the legend of the Krampus and the Krampuslauf (aka "Krampus run") held annually in Munich and other places in Europe as well as the USA (There's a Dallas Krampus Society that holds an annual walk in Deep Ellum – who knew).
As a bonus each box also comes with collectible beer themed trading cards and one box might contain a "golden ticket" (we have no idea what that means). You can also drink your beers along with Krampus and the crew from Southern Star Brewing on Instagram Live daily.
Here's the list of beers in the pack:
Day One – Krampus Karten (Old Ale)
Day Two – Bonfire (Gratzer Style Beer)
Day Three – Perchta (Saison Style Ale)
Day Four – Yule Log (Piney IPA)
Day Five – Eternal Darkness (Dry Stout)
Day Six – Rhuten (Texas Sahti Ale)
Day Seven – Nikolous (Belgian Style Blonde Ale)
Day Eight – The Cauldron (Smoked Porter)
Day Nine – Widder Shins (Holiday Wit Beer)
Day Ten – Turōn (Imperial Stout)
Day Eleven – Krampus Lauf (Rye Beer)
Day Twelve – Krampus Nacht (Extra Special Bitter Ale)
Where to Find the 12 Days of Krampus:
We're told you can pick this box of beers up at Total Wine and Spec's but that limited supplies might have run out at those places. Alternatively you can head to the Southern Star Taproom and pick up a box.
How to Drink the 12 Days of Krampus:
If you're wanting to drink with Krampus you should hurry, today is day #9 of their Instagram Live drinking.
If you want to drink one of these beers per day until Christmas Eve you should start on December 12th.
You can drink all of the beers before / during / after a local Krampuslauf / Krampus Walk / Krampus Run.
Drink them all Christmas morning and sleep all day.
Or, of course drink the beers at your own pace.
Unboxing Video:
YouTuber John Black did an unboxing video of his 12 Days of Krampus pack in case you're curious what the beers and trading cards look like.
About Southern Star Brewing Company:
Address: 3525 N. Frazier St., Conroe, Texas 77303
Phone: 936-441-2739
Website: https://www.southernstarbrewing.com/
Map to Southern Star Brewing Company:

---
Featured photo provided by Southern Star Instagram @southernstarbrewingco